June 1st.  A new day, a new month, and a new chance to focus (or REfocus) on all of those things I want to progress on.  OH, and it's National Donut Day, and YES, I accepted a free donut (thank you, Dunkin')!!  However, I will be gifting my freebie donut to my Dad.  In fact, I may try to see how many I can wrangle up throughout the day.  National Donut Day is also one of the jokiest days of the year around work because . . . Well, you know . . .  cops and donuts.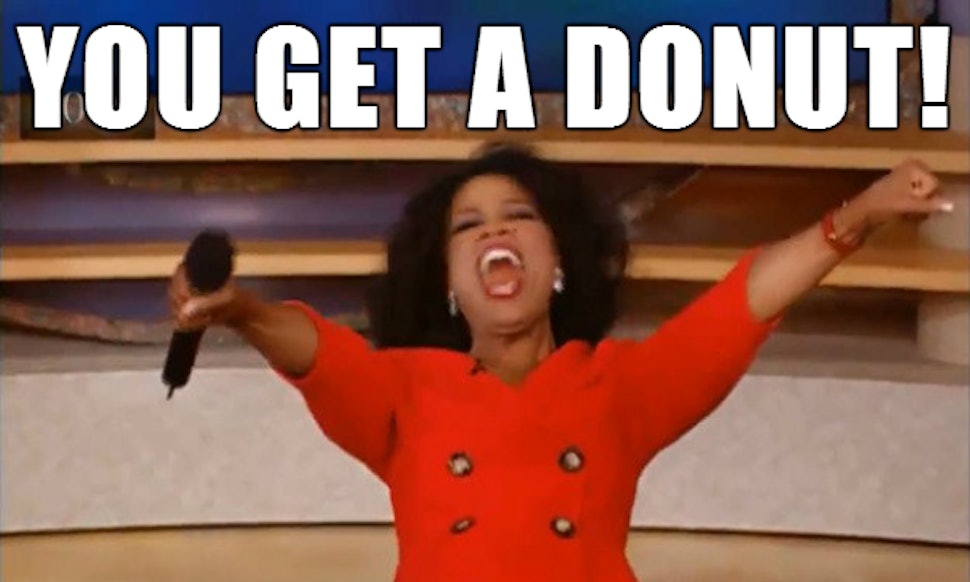 So, it's on my Day Zero Project (I'm not sure I am quite ready to link in my DZP) to write in my blog at least 50 times throughout the duration of the project.  This is update #3 since I started the DZP in December of 2017, which is just not acceptable.  Hence, my desire to "focus (or REfocus) on all of those things I want to progress on."  For those of you who are unaware of what Day Zero Project is, quite briefly, it's 101 goals in 1,001 days.  I have some seriously for serious goals such as: run a half marathon, run 1,001 miles, get to my goal weight, and inspire someone.  I also have some silly ones such as: use an entire tube of Chapstick, color an entire coloring book, get up to 1,000+ followers on my Instagram, and get a 500-point game on Words With Friends.  <~~ I've come so close with a 493!
In order to obtain my blogging goal, I may need to shift the focus of my blog.  When I began this one, I loved the idea of having a blog devoted solely to my fitness accomplishments and weight loss journey.  I then attempted to maintain a blog showcasing my incoming and outgoing mail endeavors, a blog for my creative and crafty endeavors, a blog for my creative writing and poetry, and yet another for my basic idiosyncratic blatherings.  However, I think I am going to convert this blog into just one big representative hunk of … ME.  I'm not compartmentalized, why should my shared experiences be?  Not to mention, that is a ridiculous number of blogs to not only attempt to maintain consistently but just to have, period.
So, in keeping on topic regarding DZP, one of my goals was to be selected to represent something . . . vague, right?  I am thrilled to check this goal from my to-do list; I was selected by Just Strong – Clothing for Strong Women as one of their ambassadors!  I began my ambassadorship in April, and it's a constant reminder to stay motivated because I am now representative of strong women everywhere.  However, I believe that strength is versatile and does not necessarily require being on point every. single. day.  I believe that strength includes getting back up when I trip, when I flat out take a digger and fall, and even when I skin my knee (this is intended to be a metaphor, but seeing as I'm clumsy,  it also applies literally).  Strength is doing better math after a calorie miscalculation.  Strength is striving to make today better than yesterday, even if it's a small tweak that's the tipping point.
In addition to the opportunity to #bestrong and surround myself with other strong  and likeminded women, the product itself is amazing!  My tank and cropped hoodie are among some of the best pieces of fitness attire I own (and I have a vast variety of clothing that doesn't quite fit right, doesn't stay put, or met my needs briefly, but now, not so much).  Part of my ambassadorship is to promote Just Strong's clothing line, and since I know that there are a lot of women out there also writing about their fitness goals and accomplishments, I'm extending my 10% discount code to you all, should you happen to stumble upon my blog and be in need of some new and high quality workout clothes.  Simply use code: AMY BLAISD10    upon checkout from juststrong.com  You work hard, treat yourself to some of the best fitness gear you will ever own!
Finally, and last mention of my DZP goals for today, follow my blog (goal: at least 10 followers) and my Instagram (60 away from goal)!  Once I move these goals from 'In Progress' status to 'Done' status, I may host some sort of giveaway, but you'll have to follow me to find out!